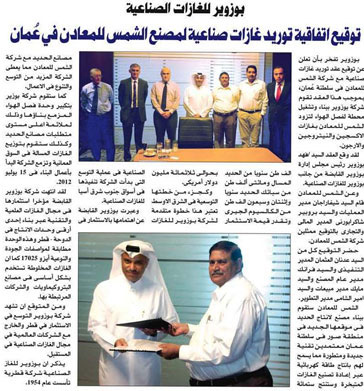 Buzwair Industrial Gases a 100% Qatari owned company established in 1954 can proudly announce the signing of a 15 year industrial gas supply agreement with Sun Metals LLC of Sultanate of Oman, the agreement is to build, own and operate an onsite Air Separation Unit plant to supply Oxygen, Nitrogen and Argon to Sun Metals integrated steel plant in Sur-Oman.
The agreement was signed at Buzwair Holding new head offices in C ring road Doha Qatar on May 17th 2012 by the Mr. P.T. Shivarajan, Operations Director of Sun Metals, Mr. Probir Chakraborty, Director Corporate and CFO of Sun Metals and Mr. Fahad Buzwair Chairman of Buzwair Holding.
Sun Metals LLC will build the integrated steel plant on a new site in Sur, Oman based on leading and energy efficient technology (using Allis Chalmers USA ported Rotary Kiln technology) that will allow Sun Metals to export power to the Oman electricity grid, Sun Metals will produce 600kt per annum of continuously cast billet and 200kt of direct reduced iron, this investment will be in the region of 300 million US Dollars in the steel plant.
This investment by Buzwair is part of our strategic expansion into the Middle East region and is an important step in Buzwair's future growth plan that has already seen investments in the South East Asia industrial gas markets.
The air separation plant will be over sized to accommodate the steel plant peak demands and will provide excess liquid Oxygen, Nitrogen and Argon for sales and distribution into the broader Omani market.
Buzwair has recently completed its investment of Buzwair Scientific and Technical Gases in a world class facility for the production of specialty gases at their Doha based operation. This facility is accredited to ISO 17025 quality standards, the gas mixtures produced are primarily used in the petrochemical and related industries. These gases which are used for calibration and analytical purposes are currently being sold extensively in Qatar and elsewhere in the region.
Buzwair also expects to announce a further investment in Qatar with international partners within the industrial gas industry in the near future.