Incorporating Liquid and Gaseous Helium Transfilling, Helium ISO Container Maintenance and Logistics Facilities
Buzwair Gases, Iwatani Corporation and LNG Japan have signed a joint venture agreement to establish a Helium handling facility in Qatar.
Buzwair Gases Buzwair Holding Head Office Doha, Qatar, Chairman: Mr. Fahad Buzwair Iwatani Corporation (Iwatani, Head Office: Tokyo and Osaka, President: Masao Nomura, Capital: JPY 20 billion) LNG Japan Corporation (LNG Japan, Head Office: Tokyo, President & CEO: Yasunori Takagi, Capital: JPY 8 billion)together signed the joint venture agreement in Tokyo on the 8th June 2013 to establish a company in Qatar. The function of this joint venture is to operate a liquid and gaseous Helium trans-filling and ISO container logistics and maintenance facilities. The signing ceremony for this joint venture agreement was held under the attendance of the heads of the three companies and executive management of the Partners.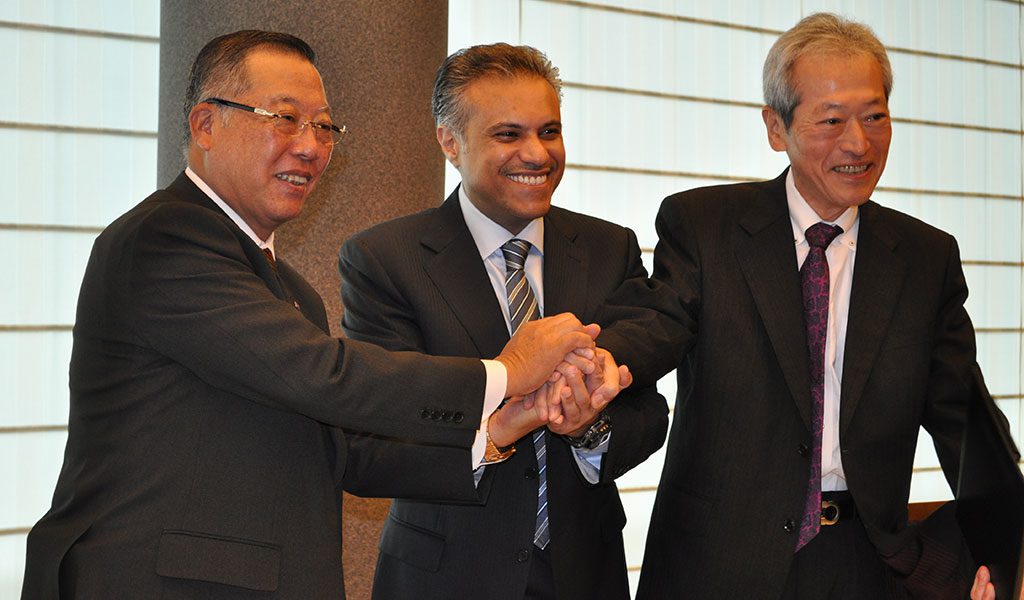 Iwatani is the first Asian Company which has acquired the right to purchase liquid Helium directly from Qatar with the commissioning of the new Helium Ⅱ Project. The liquid Helium is extracted from the associated gas through the process of LNG production in one of the world's largest LNG Plant in Qatar. Iwatani will purchase approximately 8 million cubic meters per year of Helium from the summer of 2013. Iwatani requires ISO container logistics and maintenance and recovery of the residual gas close to the liquid Helium production supply source in Qatar from where Iwatani will collect and export liquid Helium.
Iwatani aims to build an effective and competitive logistics chain with the cooperation of Buzwair and LNG Japan who both have extensive business experiences in Qatar, this regional business promotion will be the first helium transfilling operation in Qatar, and will be a significant expansion of Helium value added technology business for the State of Qatar.
Due to the current worldwide critical supply shortage of helium which is a very rare strategic commodity, the new company will be focused on leading-edge technology, gas handling efficiencies for ultra high purity Helium (99.9999%), up to 300 bar filling pressure, and regional product security. Iwatani will continue to play an important role for stable supply of Helium to ensure its customers worldwide demand is met.
Helium is widely used in medical applications, laboratory analytical instruments, specialized welding, and deep sea diving, as an industrial coolant, metrological surveys and the entertainment industry.
Buzwair Gases is a leading company within Buzwair Holding W.L.L, a prestigious and long established (1954) Qatari industrial group covering a diversified business portfolio including real estate, construction, engineering, infrastructure as well as industrial, specialty and medical gases. Buzwair view's this as a further important step in its focused and niched expansion strategy in the region developing specialized products and services coupled to international operating standards.
Buzwair also believes this partnership complements the Vision 2030 of Qatar, targeting a stimulating business climate capable of attracting foreign funds and technologies and of encouraging national investments. As such Buzwair has the contractual rights to market and sell the liquid and gaseous Helium throughout the MENA and some surrounding selected countries.
LNG Japan is a shareholder of Ras Laffan Liquefied Natural Gas Company Limited (Ras Gas) since 1997 as an energy trading house, LNG Japan has gained significant experience operating in Qatar.
Liquid Helium ISO Container Logistics will be based on the same premises as the operation for the transportation of liquid Helium ISO containers between Jebel Ali Port and HeliumⅡ Facility in Ras Laffan, which is approximately a 3 day one way journey. Jebel Ali Port is located in Dubai, United Arab Emirates, which is considered as the hub port of The Middle East.
The new facility will also be fully equipped to carry out ISO container inspection and certified maintenance and repairs.
Overview of the joint venture
Liquid and Gaseous Helium transfilling
Liquid Helium ISO Container transportation
Liquid Helium ISO container maintenance
Buzwair 51%, Iwatani 25%, LNG Japan 24%
West Side Support Services Area Ras Laffan Industrial City, Qatar 15km from Qatar Helium Plant