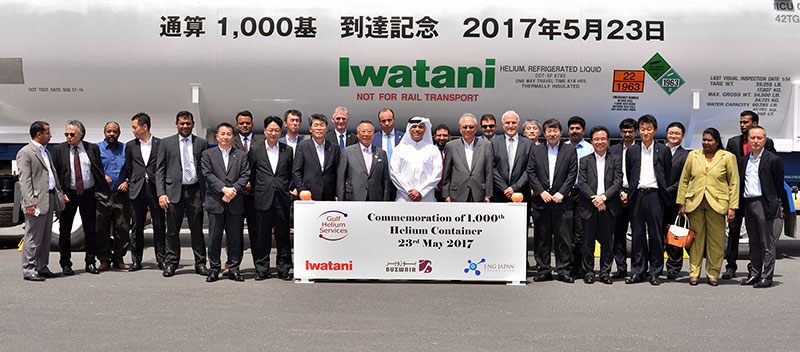 Gulf Helium Services marks a milestone step in their operations in handling the 1,000th helium containers with a celebration that was held at their facility located in Ras Laffan West Side Support Service Area, Qatar on 23rd May 2017. The ceremony was attended by Mr. Fahad M F Buzwair, Chairman of Buzwair Holding, Mr. Akiji Makino, Chairman & CEO of Iwatani Corporation and also by Mr. Norikazu Onishi, President and CEO of LNG Japan Corporation, representing the three shareholders of Gulf Helium Services. Gulf Helium Services – Qatar's first helium total facility solution center has handled more than 1,000 40foot ISO Helium containers facilitating logistics support to reach the same to various end users in many parts of the world.
Gulf Helium Services is a Joint Venture Company established in 2013 by a Qatari Company and 2 Japanese Corporations – Buzwair Industrial Gases Factories, Iwatani Corporation and LNG Japan Corporation.
GHS is the first and the only helium handling facility in Qatar incorporating liquid and gaseous helium trans-filling, helium ISO Container maintenance and road haulage logistics services. The container logistics is the transportation of liquid helium containers between Jebel Ali Port in the United Arab Emirates and Ras Laffan, Qatar.
Liquid Helium is supplied from Qatar Helium-2 production facility in Ras Laffan with a 20 years SPA to Iwatani Corporation.
Gulf Helium Services facilitates the use of Qatar helium offering a reliable and a quality service to the Qatari end users as well as to customer in the Middle East & North Africa Markets with the advantage of their ultra-modern trans-filling efficiency. Gulf Helium Services will help secure the stable supply of helium in this region meeting the increasing demand in medical applications, specialized welding, deep sea diving, and as an industrial coolant.
In order to carryout maintenance of Helium ISO containers and periodical inspection for certification, Gulf helium Services strives to provide better opportunities to the helium merchants in securing their ISO Containers being maintained in this region.