Buzwair can now supply custom made high precision Calibration and test gas mixtures and Ultra high purity gases in a variety capacity range of Aluminium and Steel lightweight cylinders. These Cylinders are manufactured to International Standards and can be transported by road, air or sea. Our cylinder range gives maximum contents with convenient portability and ease of use for the operator. When combined with our advanced cylinder preparation techniques we ensure mixture accuracy, optimum stability and maximum shelf life.
Primarily used for checking and calibrating the function of detectors and instruments used in the following applications:
Flammable gas detection
Toxic gas detection
Refrigerant gas detection
Ethanol breath testing
Gas chromatography
Food atmosphere analysis
Medical gas analysis
Environmental monitoring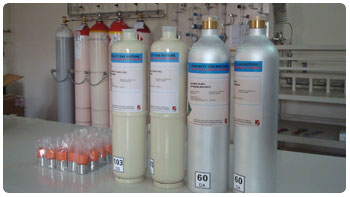 The portfolio of available mixture types cover the whole range from simple LEL Binary mixtures through to laboratory standards featuring complex blends of multi components of low ppm levels.
Manufactured by analytical certification to ISO 17025. Also Gravimetrically manufactured to IS0 6142